When Gisell Estrada opened a letter from a defense firm in the fall of 2019 notifying her of a felony warrant for her arrest, she thought it was a prank. The then 17-year-old Albuquerque High School student had never been in trouble with the police and spent most of her time outside of school at home with her mom, dad, and brother. But what first seemed like a cruel joke soon turned into a nightmare for Gisell and her family.
On November 3, Gisell's mom spoke with the receptionist from the defense firm that sent the letter and was stunned to discover Gisell was accused of armed robbery and first-degree murder. She was determined to do everything in her power to defend her daughter, but she couldn't afford the steep costs of the private firm. So, she turned to the Law Offices of the Public Defender to secure representation. Gisell's attorneys quickly discovered the allegations against her were filed under seal, preventing them from learning any details about what she was accused of doing.
Gisell stood to be arrested for a crime she didn't commit without any information on how police even determined she was the perpetrator.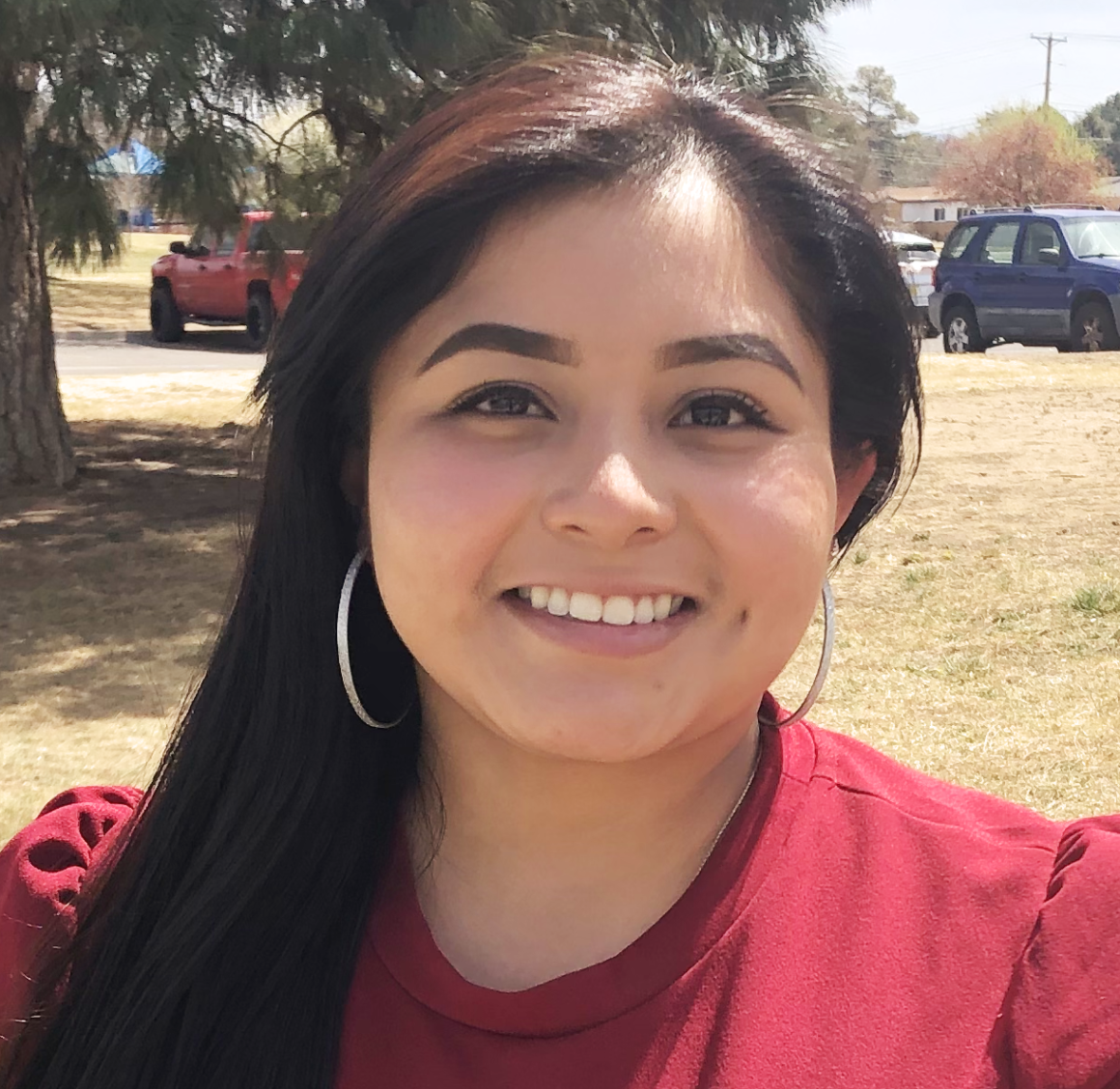 Photo: Gisell Estrada.

To avoid the possibility that police might show up at her home and arrest her violently in front of her family, she decided she would turn herself over willingly to Detective Jesse Carter, the police officer who filed the affidavit for her arrest warrant. The night before she planned to turn herself over, she lay awake with a knot of dread in the pit of stomach, trying to wrap her mind around going to jail.
"I had asked my attorneys how many days I would be incarcerated for and they said they didn't know how many days because this type of situation can take forever to solve," Gisell said. "I got really scared because I thought I was going to be there for the rest of my life."
On November 8, Gisell's attorneys accompanied her to meet Detective Carter outside the police station. He cuffed Gisell's trembling hands in front of her, while she struggled to hold back tears. Within an hour, Gisell was booked into juvenile detention where she would stay for six brutal days.
Sloppy police work
How did an innocent young woman come to be arrested and jailed for murder?
It all started on July 10, 2019, when a young man named Calvin Kelly was murdered during a robbery in the early morning on a side street near his apartment complex. Detective Carter, who was assigned to investigate the homicide, met with a woman named Cynthia Salgado, who told him she was one of four people involved in a plot to rob Mr. Kelly. She told him that one of the co-conspirators was Alexis "Lexi" Barraza, who knew Mr. Kelly and whose role was to lure him outside. Ms. Salgado described Lexi as homeless and as having a lazy eye. An eyewitness also reported seeing a woman at the scene with shoulder length red-dyed hair.
Detective Carter's investigative work was not just sloppy, it was reckless and harmful. He took an innocent young woman from her family's loving arms and forced her to endure the worst week of her life.
Detective Carter searched for and found two Facebook accounts for Lexi, a possible Highland High School student according to one of her accounts, who, he noted, had red-dyed hair in some of her photos. He took two photos of Lexi from Facebook to Ms.Salgado, who confirmed she was the right person. At no point did Ms. Salgado link Gisell to the photos.
With photos of Lexi in hand, Detective Carter then headed to Albuquerque High — a completely different school than Lexi listed on her Facebook profile — to see if he could find her. He first showed the photos to a school resource officer who contacted a school administrator named Ashely Chavez. Chavez said she recognized the young woman as a student aid in the office, Gisell Estrada.
Gisell has never gone by the name Alexis Barraza, Lexi Barraza, or any other names the real person involved used. She also did not have red-dyed hair or a lazy eye and was not homeless. The only similarities that Gisell and Lexi have in common are that they are both Hispanic and female.
Nevertheless, based on a single-suspect Facebook photo identification conducted by an Albuquerque Public School administrator at the wrong school, Detective Carter concluded that Gisell committed the offense of first-degree murder, a capital felony, without ever even questioning her.
He then wrote up an affidavit for an arrest warrant, in which falsely stated that Ms. Salgado "positively identified" Gisell. He omitted how he actually identified Gisell — by taking photos of Lexi to Albuquerque High and sharing them with a school administrator.
"Detective Carter's investigative work was not just sloppy, it was reckless and harmful," said ACLU of New Mexico attorney Zoila Y. Alvarez Hernández. "He not only closed his eyes to exculpatory information and facts that would have demonstrated Gisell's innocence, he also knowingly, or at best, carelessly omitted all information from the criminal complaint and affidavit for arrest warrant that would have explained how Gisell became a suspect in the investigation. He took an innocent young woman from her family's loving arms and forced her to endure the worst week of her life."
Six days in jail
On Friday November 8, Gisell should have been in school. She should have been able to eat lunch in the classroom of her favorite teacher, as she did on most days. Instead, she was booked into juvenile detention, where, upon arriving, she was forced to strip naked in front of guards, squat, and cough to ensure she wasn't hiding drugs or other prohibited items.
To make matters worse, the District Attorney's office, based on Detective Carter's shoddy police work, successfully moved to detain Gisell pre-trial, keeping her from returning home to her family while her case proceeded.
"I kept hoping that it was just a nightmare," Gisell said. "I didn't understand why I had been arrested or what I'd done to deserve this kind of treatment. I missed my family and I was so upset I could barely eat or sleep."
Each time Gisell's parents visited her, guards subjected her to invasive strip searches. She looked forward to their visits, but dreaded the moment they would leave, when guards would swab and test her hands for drugs, tell her she didn't pass the swab test, and then order her to take her clothes off. Gisell struggled to maintain hope that she would be able to clear her name.
"I kept hoping that it was just a nightmare. I didn't understand why I had been arrested or what I'd done to deserve this kind of treatment."
"The ordeal that Detective Carter, prosecutors, and jail guards put Gisell through was nothing short of horrific," said Alvarez Hernández.  "Not only was Gisell terrified at the prospect of facing a life sentence for a crime she didn't commit, but she was violated and humiliated repeatedly."
After five days, On November 13, Gisell's attorneys were able to provide a photograph of Gisell with her natural hair color, taken a day before the killing, as well as cell phone data to confirm that she was at home when the incident occurred to Detective Carter. That same day, Detective Carter met with one of the robbers, who told him, "You have the wrong Lexi. I just spoke to her yesterday." Nevertheless, Gisell spent another night in detention.
Finally, after six brutal days in jail, Gisell was released without an apology. On November 19, when the real offender was located, all charges against her were dismissed.
Gisell's fight for justice
Gisell's struggle didn't end when she left jail. In the aftermath of her release, she was burdened with questions from students and teachers about her arrest. Even though months have passed since the incident, Gisell still lays awake on many nights remembering the sinking feeling in her stomach that she'd never make it out to graduate high school. Other nights, she dreams about being forced to strip naked in front of guards.
The humiliation and trauma she experienced behind bars has left a lasting mark on her, but it has not stopped her from fighting back. In December 2020, ACLU of New Mexico, along with civil rights law firm Kennedy, Kennedy, & Ives, filed a lawsuit against the City of Albuquerque for falsely arresting, imprisoning, and depriving Gisell of her state constitutional rights.
"I just hope this doesn't happen to anyone else because it's a terrifying and terrible memory that I'm going to have for the rest of my life."
"This was a deeply traumatic experience for both Gisell and her family, and they deserve justice for the great harm done to them," said Alvarez Hernández . "We're doing everything in our power to provide them a measure of peace and healing through this litigation."
Gisell isn't just fighting to achieve justice for her and her family. She's fighting to prevent other innocent people from enduring the emotional suffering of wrongful incarceration and the lasting stigma associated with being accused of a horrific crime.
"I want to fight because they identified the wrong girl — because they kept me there for a week," Gisell said. "I just hope this doesn't happen to anyone else because it's a terrifying and terrible memory that I'm going to have for the rest of my life."