On Friday, September 22, a group of several hundred people in Albuquerque peacefully marched downtown to protest police brutality against people of color in America. Though the event was planned well in advance, the timing couldn't have been more appropriate. Just a few days earlier, yet another a white police officer was acquitted in the killing of a black motorist in St. Louis. When Black Lives Matter (BLM) activists protested the acquittal, St. Louis police in riot gear forcibly dispersed the protesters while mocking them with chants of, "Whose streets? Our streets!"—a co-opting of an iconic BLM slogan that emerged out the Ferguson protests three years earlier.
The Albuquerque Black Lives Matter protest was set to kick off at 6pm, with participants gathering downtown at 1st and Central. The group planned to march down Central to 8th Street and rally near Robinson Park. The organizers made it very clear that this would be a peaceful protest, and safety coordinators in fluorescent yellow vests stood ready to help deescalate any situations involving antagonistic bystanders or outside agitators.
During the protest, the Albuquerque Police Department (APD) did a good job of rerouting traffic away from the protesters and keeping a respectful distance to avoid any unnecessary conflicts with the protesters. However, the actions that the city took in preparation for the protest constituted a gross overreaction to a fairly routine political demonstration that promised no unusual risks. In advance of the protest, APD sent a letter to business owners and property managers near the demonstration's route, which reportedly warned—without justification—that the protesters might break windows and damage property along the route. On her way to the protest, one of the speakers at the rally even overheard a police officer refer to the BLM event as a "riot."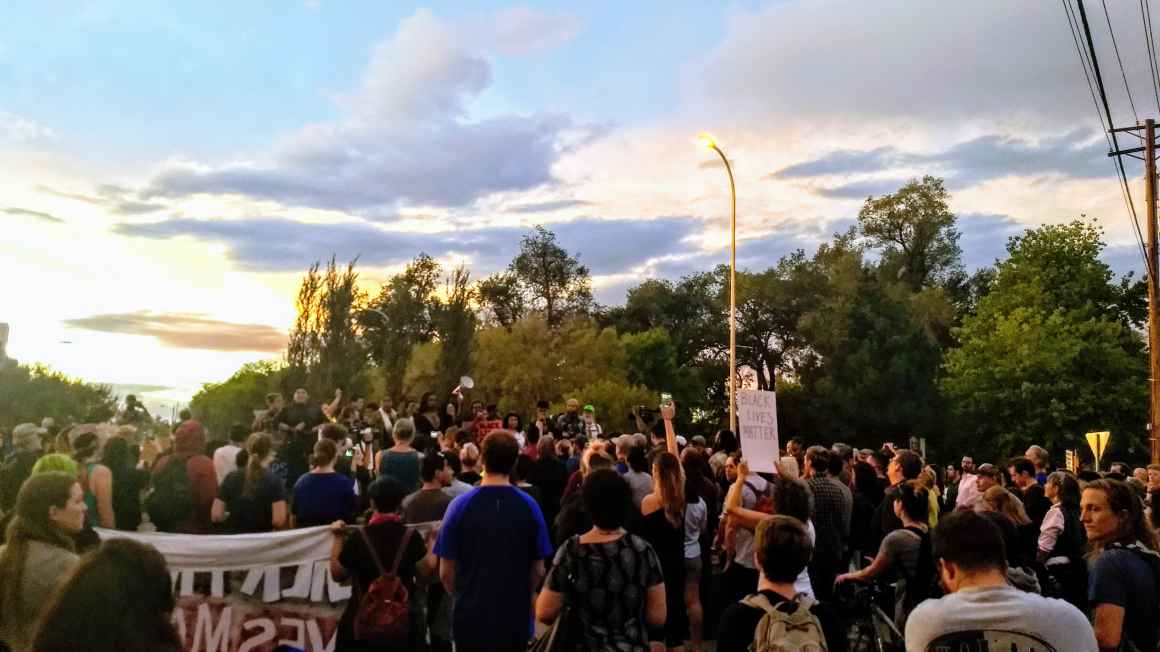 In a continuation of its alarmist stance towards the protest, the City shut down government offices at 3pm, all of which were several blocks away from the planned route of the march. One of the buildings shuttered was the City Clerk's office which contained early voting location where municipal elections are currently underway. Shutting down an early voting location three hours before closing because of a peaceful political protest half a mile away is an overreaction that cost some citizens their opportunity to vote on Friday.
The ability to freely assemble and protest in public spaces is a cornerstone of our democracy. Indeed, it is difficult to imagine any of the social movements of the last 100 years succeeding without protest. Yes, the police should take reasonable actions to facilitate the protection of people and property during protests, but that typically does not entail shutting down the government or scaring restaurants into shuttering their businesses. (After all, protesters eat too!)
At the core of all this is an ugly assumption that a protest organized by black people would somehow be more prone to violence or vandalism. This racist stereotype, the idea that black people are more likely to be violent or commit crimes, is the reason police brutalize and kill black people at wildly disproportionate rates. Which of course was the very thing people were there to protest last week. This kind of implicit racism only serves to weaken an already fragile relationship between police and marginalized communities here in Albuquerque.
The past several years have seen a surge in the frequency and size of protests, and for good reason. In the dozens of protests that have been held in Albuquerque in that time, incidents of property damage or violence have been exceedingly rare and committed by just a few isolated agitators. The default assumption for police should be that—unless the organizers advertise differently—a protest will be a peaceful event. That did not happen last week, and one cannot help but think the color of the organizers' skin affected the city's posture.