ALBUQUERQUE — The American Civil Liberties Union (ACLU) of New Mexico this week launched a series of billboards around Albuquerque calling for the closure of the troubled Torrance County Detention Facility. 
The billboards bear the messages "Seeking Asylum is Not a Crime" and "End Immigration Detention in Torrance County" and can be found on southbound I-25 near Coal Ave, northbound I-25 near San Mateo, westbound on I-40 near Broadway, eastbound on I-40 past Carlisle.  
"It's outrageous that despite the mountains of evidence showing how dangerous the Torrance County Detention Facility is, ICE and the Biden administration have not only continued using it but increased the number of people detained there," said Rebecca Sheff senior staff attorney at the ACLU of New Mexico. "It's time ICE terminates its contract and stops detaining people at this facility – including many asylum seekers who have faced harrowing journeys to the U.S. seeking protection."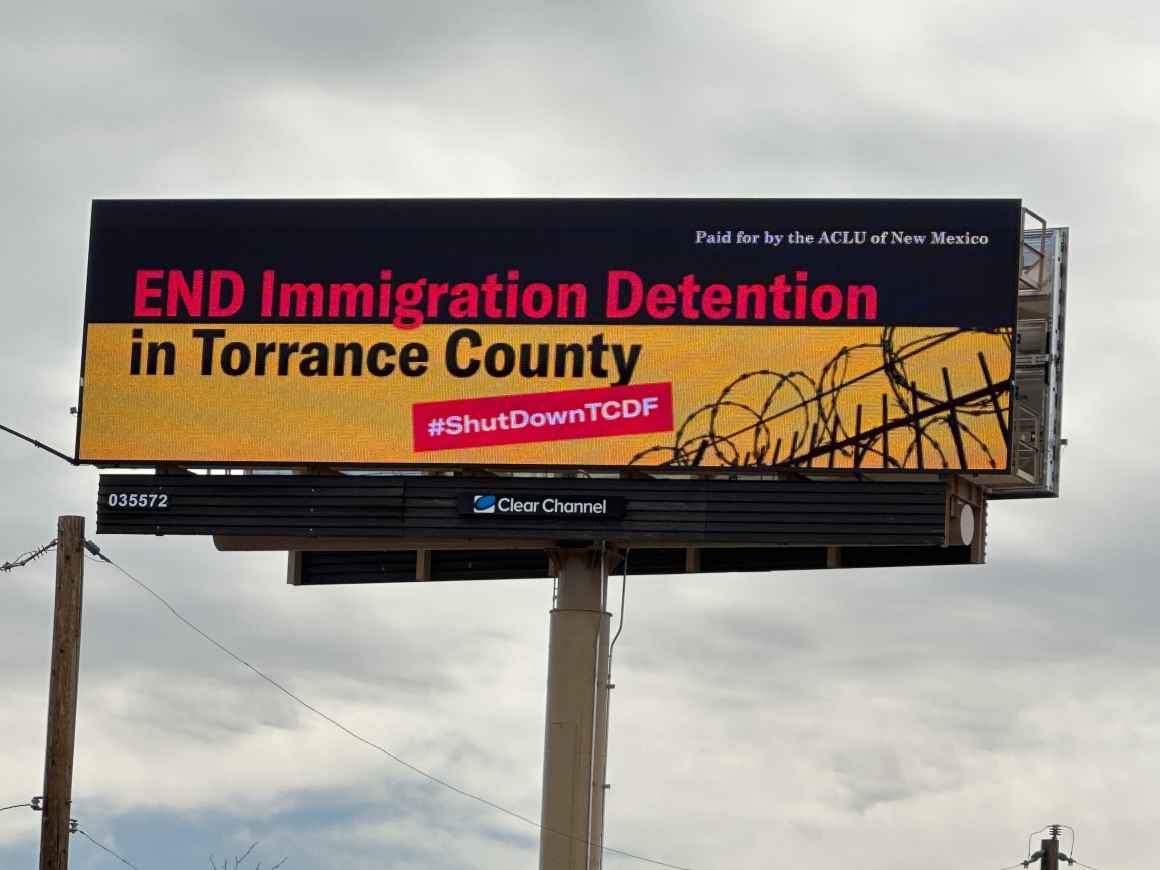 The inhumane conditions at the Torrance County Detention Facility have been well-documented, including by the government's own watchdog agency.  The Office of Inspector General in September called for the immediate removal of everyone detained at the facility after finding "
egregious conditions
" at Torrance. 
U.S. Immigration and Customs Enforcement (ICE), which pays almost $2 million a month to detain migrants and asylum seekers at Torrance, ignored that call.  
People detained at Torrance have reported conditions including sewage that overflows with human refuse, malfunctioning cell doors that could leave people trapped in an emergency, inadequate staffing, unsanitary conditions and more. 
More recently, advocacy organizations including Innovation Law Lab released a report detailing a severe mental health crisis at Torrance. A recently released audit also revealed the facility was in severe lack of compliance with the Prison Rape Elimination Act (PREA). 
The Torrance County Detention Facility, in Estancia, is owned and operated by the private prison company CoreCivic. 
As of today, 94,903 people have messaged the Biden administration calling on ICE to not sign new detention center contracts and close existing detention facilities. Take action and add your name here today.
The billboard design and additional photos can be viewed here.