New Mexicans deserve a police force that is held to a high and uniform standard when it comes to the use of force. Our patchwork of individual agency policies governing police use-of-force has failed to protect New Mexicans andstands in the way of improved policing. A statewide standard would help law enforcement officers (LEOs) knowwhat rules govern use-of-force regardless of jurisdiction, helping improve policing both for officers and the public.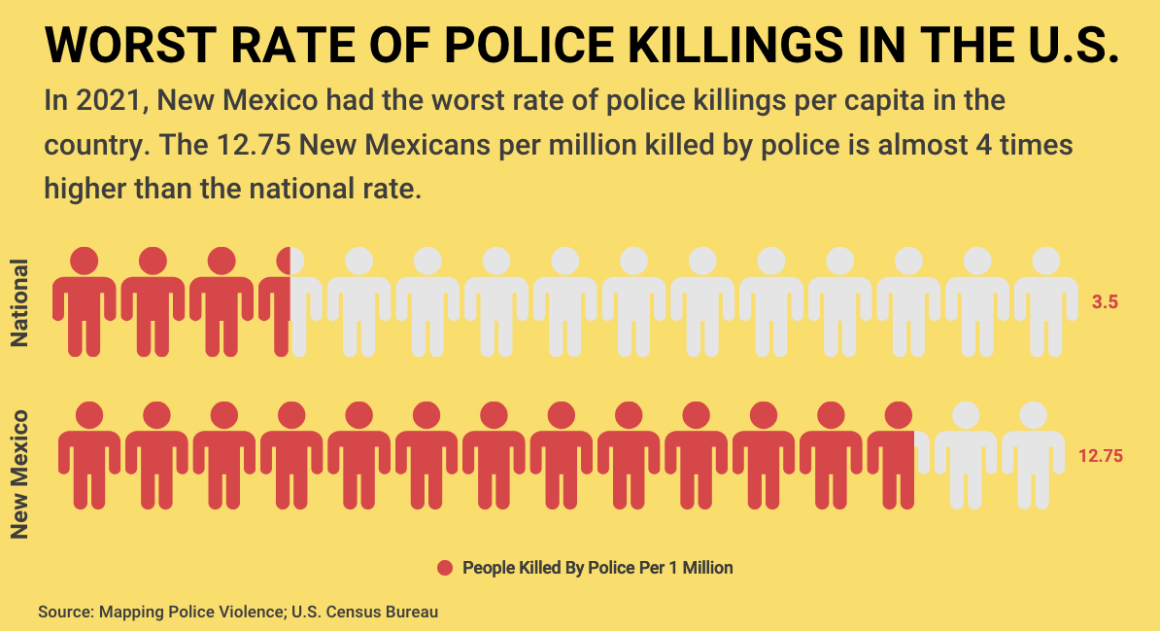 1. GOOD FOR THE PUBLIC, GOOD FOR THE OFFICER
Research shows that officers and members of the public are less likely to be injured or killed in a police encounter when more restrictive use-of-force policies are in place. Law enforcement departments with the types of policies proposed in this bill tend to have lower rates of deadly incidents.
---
The vast majority of New Mexicans (80%) believe we can strike a balance between giving LEOs the tools to keep our communities safe while instituting reasonable limits on use-of-force.
---
2. URGENTLY NEEDED
Every year, New Mexico is ranked among the states with the highest rates of people killed by police. Some years it's been the worst state in the nation for police killings†. Since 2013, police in New Mexico have killed more than 200 people, including 31 in the past 12 months.
The Albuquerque Police Department has been under a consent decree since the U.S. Department of Justice found in 2014 that officers engaged in a "pattern or practice of use of excessive force, including deadly force, in violation of the Fourth Amendment and [federal law]."  But the need is statewide -- in 2021, police in New Mexico killed 27 people, more than the 25 killed by police in the State of New York, which has nine times as many people.
---
Virtually all New Mexicans (97%) live in a county where someone was killed by an officer in the past 10 years.
---
3. MATCHING NATIONAL STANDARDS & ALIGNING WITH OUR VALUES
The provisions in this bill are already widely accepted as best practices by law enforcement experts. Much of this bill mirrors the federal standards of policing. This bill will:
revise/modernize use-of-force standards;
eliminate no knock-warrants;
create a duty to intervene, and protect officers who do intervene;
improve data collection to properly vet new officers and keep out bad apples.
In 2022, legislators passed HB 68 requiring that law enforcement basic and in-service training include crisis management and intervention, peer-to-peer intervention, de-escalation tactics, and use-of-force practices that eliminated the use of chokeholds. The provisions in this bill follow up on those training requirements with policies that enforce them.